CDI

Monetization & Conversion Strategist SVOD Lead (M/F)
Description de l'emploi
As a European leader, our company provides innovative video streaming platforms to large media groups and broadcasters for millions of users accumulating billion hours of streaming per year. We rely on more than 10 years of experience with a talented team of + 250 collaborators.
Thanks to our teams the know-how, we now offer the means to national media groups to compete with the giants of global streaming. Our success is based on an all-inclusive partnership model around our platform, state-of-the-art performance, and controlled and competitive costs.
In joining us you will be part of a unique adventure in Europe, sharing a common vision with a company betting on talents capable of creating the streaming technologies of tomorrow.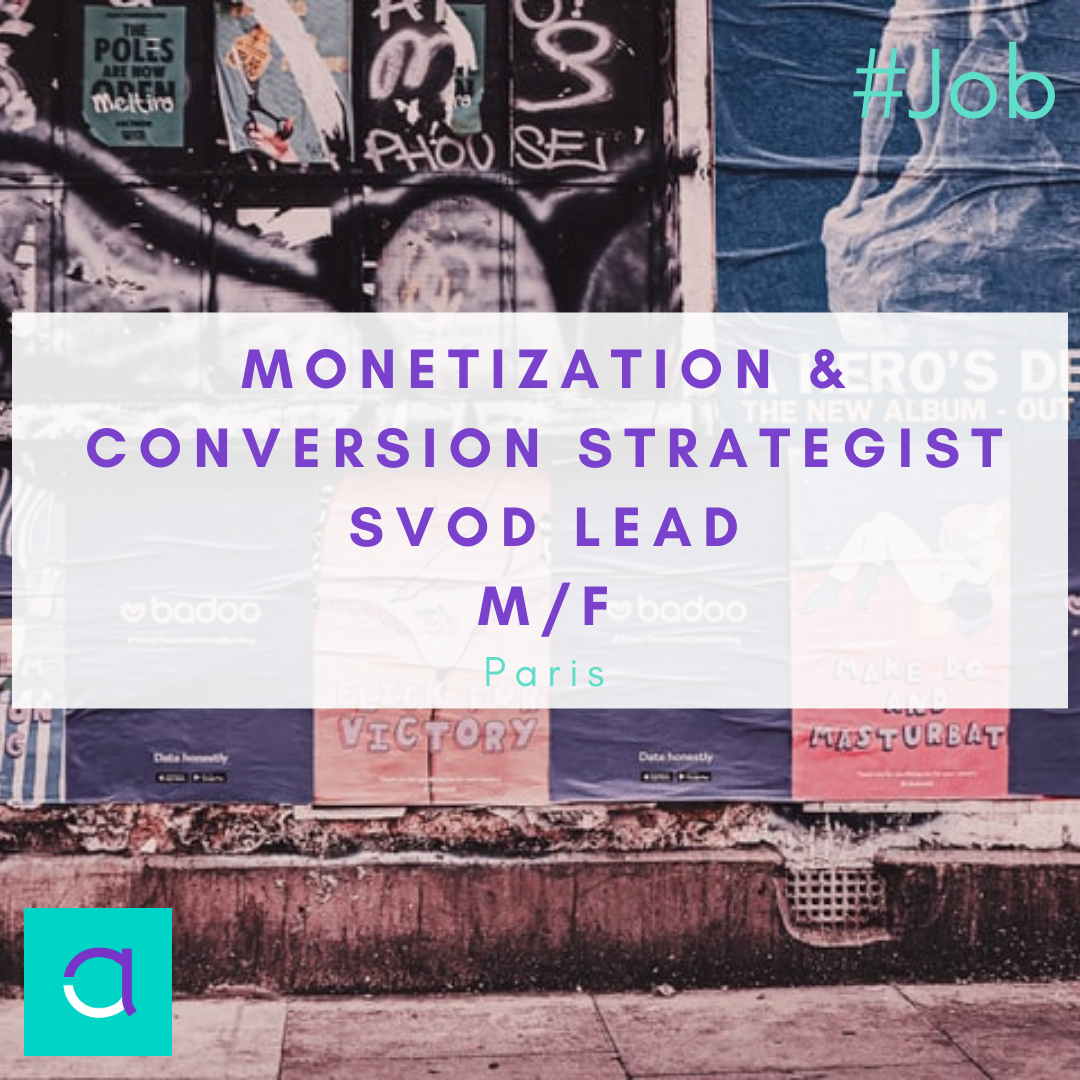 A very strategic mission:
As a SVOD Lead Monetization and Conversion Strategist, you will be responsible for defining and evolving the SVOD strategy and roadmap. Your challenge is to constantly improve the performance of its SVOD clients by increasing the ARPU and reducing churn rates.
Within our Business department, in the Strategy & Innovation team, you work very closely with the Product / Tech teams and interact regularly with our customers as well as with various key technology suppliers.
Major Responsibility
Analyze and improve the existing SVOD roadmap and lead the company towards a strong SVOD expertise
Monitor the competition of the main SVOD players around the world and identify winning strategies
Manage relationships with major SVOD technology providers (anti-churn, upsell, win-back specialists, etc.) and maximize roadmap visibility and business opportunities for our clients
Participate in our clients' activity reviews and understand their needs / challenges; create a relationship of trust by influencing them towards the SVOD roadmap that you have established
Develop top-notch strategies and business case presentations positioning us as a leading platform in the SVOD space for prospect needs.
Required Experience Skills/Knowledge
10+ years of professional experience building & managing monetization efforts within a digital environment (SVOD, PayTV, VOD, music e-commerce) in a subscription model.
Master from top Engineering school, Business School or University.
Fluent in English + at least one additional European language (French preferable but not mandatory).
Passion for streaming technologies and SVOD platforms is a must.
Very good analytical skills and capacity to gather different sources of data both internal and external.
Great understanding of SVOD industry, content distribution, app store environments and distribution/retail ecosystems.
Outstanding interpersonal, communication and presentation skills.
Collaborative and positive mindset, able to influence internal and external stakeholders.
Proactive, self-starter who can work independently within set objectives in a relaxed but demanding environment
Why join us?
A unique adventure for a leading player on a fast growing market
A teamwork environment that encourages execution excellence, passion and innovation, always measuring ourselves against best in class players.
Our goal is always to create the best measurable streaming customer experience
Passion, curiosity, open communication, result oriented, acceptance of failure, team spirit are the basis of our values
And… we always celebrate our victories.
Comment faire une demande
https://bit.ly/3t1p6Rp
Postuler à cette offre d'emploi